Truss Frame Floating Docks
Truss frame (or heavy duty) floating docks provide the best solution in demanding locations. Our frame docks are perfect for sites with changing water levels. They are also best in areas with a lot of wake or water movement. The system is comprised of our standard 4" deck module fastened to an aluminum structural box frame. The frame is subsequently attached to environmentally safe polyethylene dock floats. Aluminum decking in a color of your choosing provides a safe, non-slip surface. The deck surface maintains an ambient temperature so it is comfortable to walk on. Additional features of the decking include grooves so that water does not pool causing a slip hazard. Metal Craft uses stainless steel fasteners to secure all of our products.
Frame dock hardware varies by location. All systems require some type of dock pile holders and pipe or pilings. Other hardware options include a series of locked connections or hinge connections. Custom parts include pockets for piles, piling rollers, pile hoops – all of these can made right in our shop without the custom price tag. All of our hardware is made from aluminum and uses stainless fasteners. Heavy Duty Floating systems have been used on Lake Cumberland, Kentucky since the early 1970's. We recommend them for use in marinas within a protected area. Due to the degree of customization involved in configuring a truss frame dock system, we strongly recommend working with an experienced Metal Craft Docks Dealer to develop a solution complete with accessories to best fit your needs.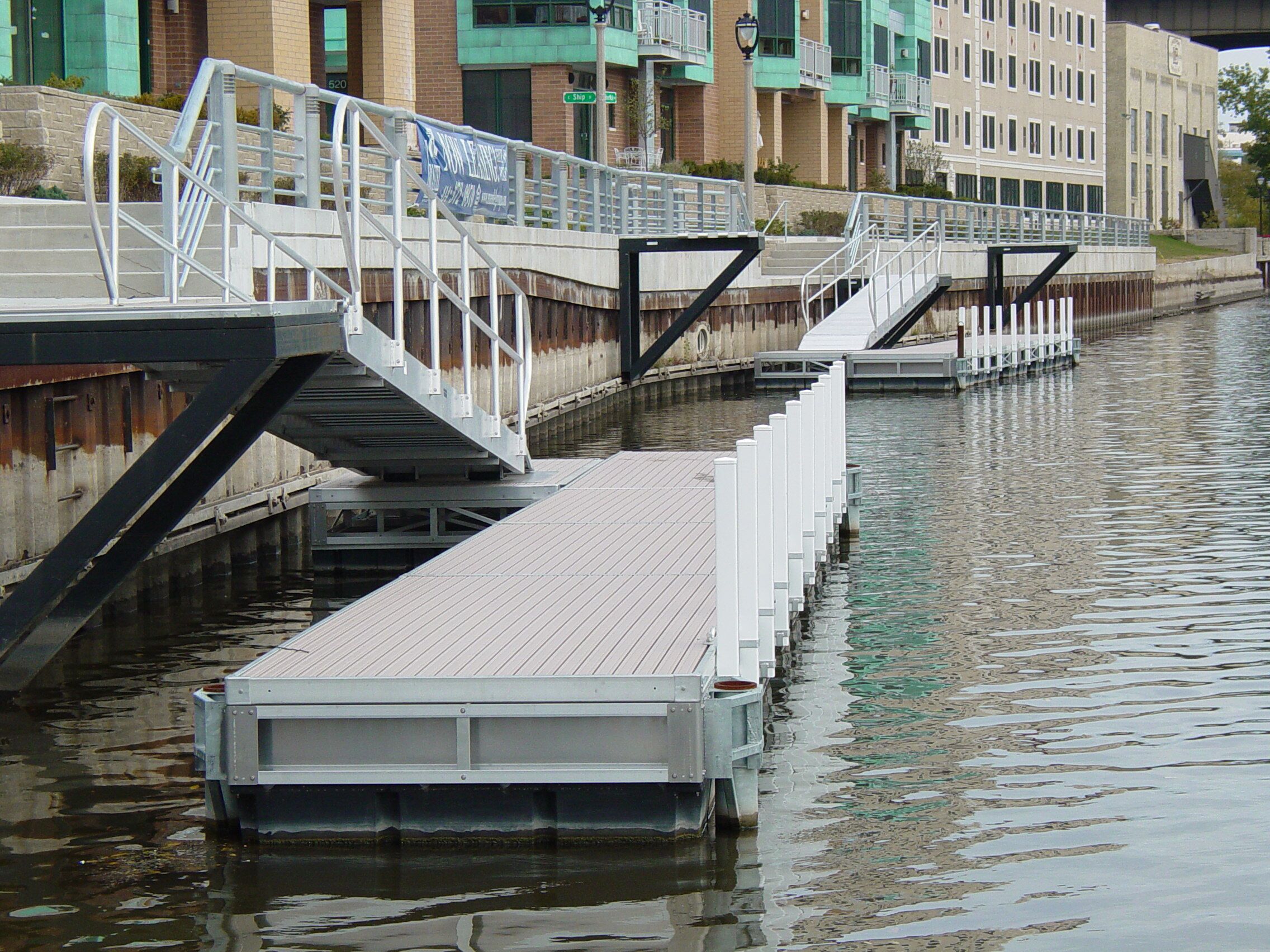 | Feature | Metal Craft | Wood | Plastic |
| --- | --- | --- | --- |
| Will not crack, warp, or rot | | | |
| Lighter-weight for easy installs | | | |
| Skid resistance | | | |
| Higher resistance to UV fading | | | |
| Deck surfaces maintain an ambient temperature | | | |
| Resists insects, mildew, algae | | | |
| Will not burn/ Class A rating | | | |
| Highest recycle content | | | |
Residential Heavy Duty Floating Docks
The Metal Craft residential frame floating dock provides customers a commercial grade dock option without the high price tag. Our residential customers choose this dock most often for their property on rivers since the water level can change drastically with storms. Truss frame floating docks are available in four widths (3′, 4′, 5′, 6′) and in three lengths (10′, 12.5′, 15′). Additional accessories include boat rub-rail, dock cleats, solar lights and retractable dock ladder. Installation of the system might include stiff arm connections or dock hoop piles and pilings. We suggest working with an authorized dealer for the best solutions for your waterfront.
Commercial Heavy Duty Floating Docks
Commercial frame floating dock provides a tough, commercial-grade dock system that is extremely durable and modular. This type of dock system is perfect for government dock projects and protected marinas. Metal Craft commercial systems can be added onto as your marina expands. In addition to the hardware listed above, commercial systems can also require winch systems and cabling. Because we make our own products, fabricating special items for your site are relatively inexpensive. Large systems require engineer approved drawings for the application or site where they will be used. Metal Craft has partnered with various firms in the past; Contact us if you need a referral. Commercial Heavy Duty Floating docks are available in four widths (3′, 4′, 5′, 6′) and in three lengths (10′, 12.5′, 15′). They are available in 26″ high and 28″H freeboards.
Contact Metal Craft Docks
keyboard_arrow_leftPrevious
Nextkeyboard_arrow_right